"If the teacher meets the needs of the group of children entrusted to her, she will see the qualities of social life burst surprisingly into flower, and will have the joy of watching these manifestations of the childish soul." —Maria Montessori, From Childhood to Adolescence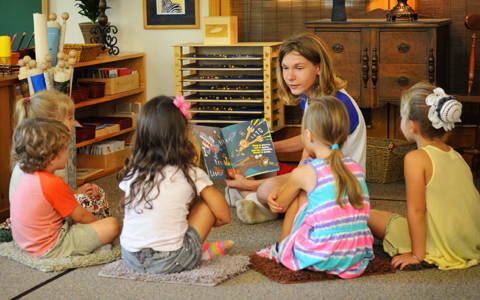 The programs at Nature's Way follow Dr. Maria Montessori's educational philosophy.  Though all of our communities are unique, they share fundamental characteristics:
Classrooms are carefully prepared environments that are calm, orderly, and joyful. Our communities are led by Montessori-certified guides (teachers) and assistants.
Multi-age groupings in each classroom encourage cooperative and collaborative learning and allow for broad emotional, social, and cognitive development for each child.  Younger students learn from watching older students and are motivated to excel.  Older students reinforce their knowledge by teaching what they have learned to younger students and are called upon to be models and mentors in their individual classrooms, as well as schoolwide, creating a strong sense of community.
Guides work with students for a two- or three-year cycle, beginning in Early Childhood, allowing them to have a deeper understanding of each child's individual needs and learning styles.
Positive discipline, a philosophy of respectful discipline designed to teach children to become responsible, respectful, and resourceful members of their communities, is utilized schoolwide.